McGowan Fine Art of Concord, NH recently completed an art installation for Stibler Associates in Bedford, NH.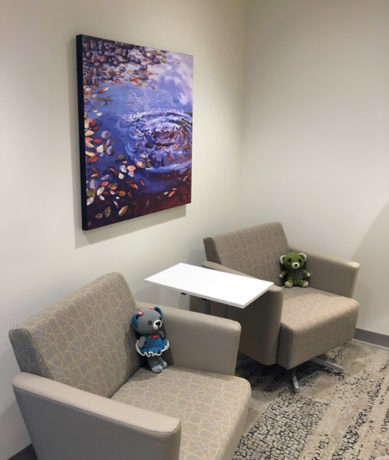 The project was coordinated and installed by Amanda McGowan Lacasse, Corporate Art Consultant with McGowan Fine Art. Helping a fabulous interior design firm with their new space is an exciting task, and Amanda enjoyed selecting artwork to be the perfect finishing touch!
Vintage iconic chair patents add a graphic, playful touch to the kitchen space without competing with the bold green wall and dramatic lighting. Softer, more restful nature images create windows in the interior Privacy Room – helped foster a soothing environment for employees and clients alike. Amanda opted to use a mix of traditionally framed pieces and canvas artwork, creating visual interest in the layered, beautiful space.
McGowan Fine Art has over 30 years of corporate consulting experience, and has worked with corporations and businesses of all sizes throughout New England. Corporate art selections have ranged from original art and commissions to high quality reproductions and historic photographs – no two projects are alike! For more information, please contact Amanda at 603-225-2515 or amanda@mcgowanfineart.com.