Sarah always says, "It is not a road trip until there is coffee!" I think it's not a road trip unless there are snacks. Either way, we both agree that good art must be present for a successful adventure – and Amy Goodwin did not disappoint!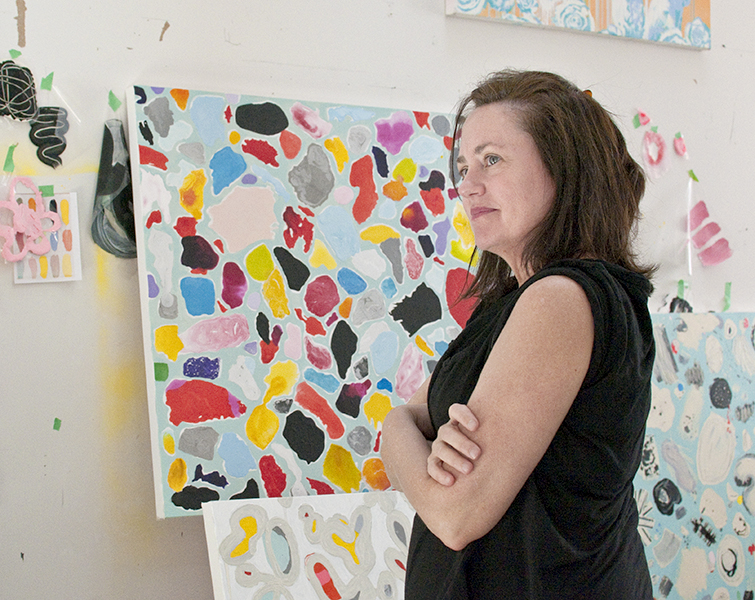 Lucky for Amy, she is never alone while she works. Cheeky lawn ornaments (painted and unpainted) can be found lining her studio and making sure she stays on task. Heavy on the bunny, and light on empty wall space, her studio has the charm of a gardening disney princess turned artist.
While Goodwin's work is created with a large range of mediums and colors, you may not know exactly what you are getting into with her style at any point in time. There is no doubt she is talented and extremely skilled at what she does but sometimes you just need to 'loosen up.' Her painted figurative work displays her knowledge of the human figure (see Goggles) which can occasionally leave an artist stuck in a representational rut. "Sometimes I feel that I am too rigid so I am always searching for ways to make me loosen up," says Goodwin.
Nothing stops you in your tracks for a double take like the new works from Goodwin's ongoing series, You Feel Me. She says she created these works thinking about not only beautiful textures for the eyes but also the fingers. This work is about creating paint collages with textures and designs that can be composed through different application methods. By airbrushing from one direction across the thickly applied paint she is able to enhance the texture, and seems to add another dimension to the piece. It also makes the viewer spend more time with the work, attempting to uncover the techniques that have created the varying canvas treatments.
While each work is eye-catching from afar, the colors, relationships, and movement are mesmerizing as a cohesive composition. Goodwin's Frooty series is reminiscent of a box of chocolates- each component on the composition a little jewel in its own right. The real satisfaction of the work however is stepping up close to each piece and examining parts individually. Pouring, mixing, dabbing, spraying, gluing, painting, drawing, reversing every processes and then moving forward again. When viewing the surfaces of these paintings there is no better hat to wear than that of a forensic artist.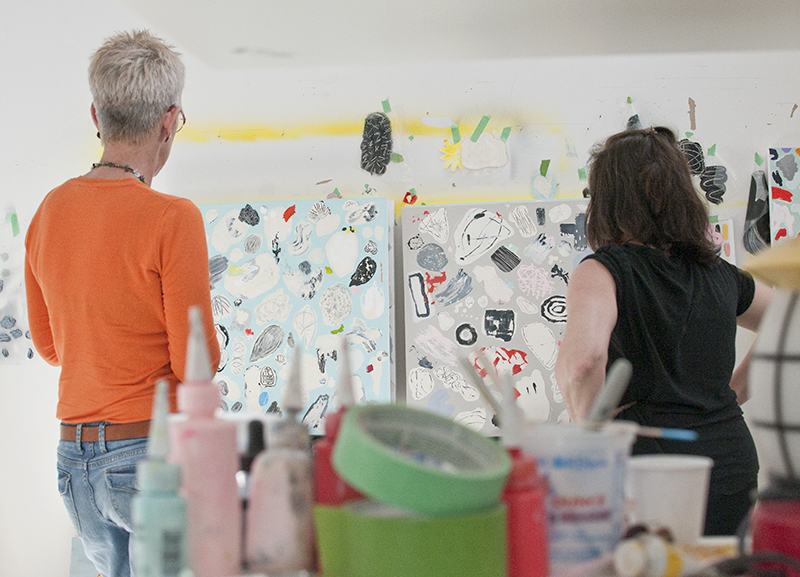 For the past few years she has been painting or airbrushing onto plastic film. When the paint dries she is able to peel off the work and adhere it to a canvas with medium, in effect reverse painting. "I never really know what the painting will look like until I turn it over," explains Goodwin. The experimental aspect of her work is intriguing; it has a playful yet almost 'scientific method' of creation. In another series she has completely removed the artist's hand by pouring her paint on to the canvas instead of using a brush.
No matter the medium or application process, we are big fans of Amy Goodwin's paintings. Check out more of her work online here or come see the upcoming show Color Play in person, featuring works by Natalie Blake, Cathy Chin, and Amy Goodwin. The show runs from May 2-June 2, with a brunch reception May 6th 11AM-1PM. This event is free and open to the public.
Sign up to receive McGowan Fine Art in your inbox! Updates on the newest art, shows, and events!