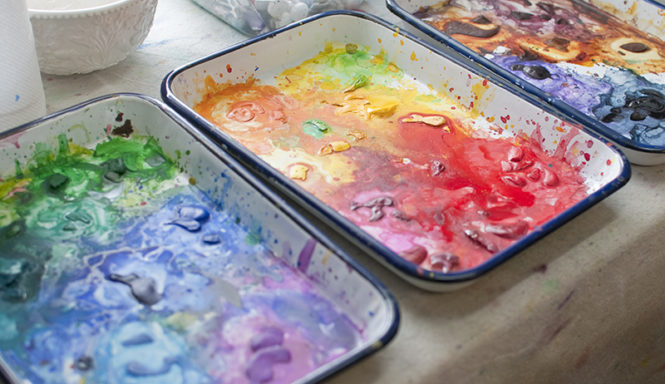 There is no avoiding it. The second you enter Bruce McColl's studio is the moment you step from your monochromatic life in Kansas into the colorful Land of Oz.
If you are unfamiliar with his work, Bruce McColl is known for his vibrant paintings and pastels – lively abstracted studio scenes and landscapes, reminiscent of modern masters Henri Matisse and Hans Hofmann. He works with a bold color palette in a variety of media including pastel, watercolor, crayon and oil.
Here at McGowan, we are extremely excited as we prepare for his upcoming show: The Color of Seasons, which will be on view June 6-July 7. Bruce was nice enough to invite us into his creative space to view new work and pick his artistic brain…and now we're looking forward to the show even more!
A bright bouquet, Family Portrait, greeted us as we first walked into the studio. Much like the rest of McColl's work, color and abundance is what first draws the viewer in. "The flowers speak to me. They have attitude, mirth and personality. Tightly bound to a glass jar they struggle to gain light, and purchase," explains McColl.
The speed and fluidity of his linework matches the pace of your gaze as you first experience the bouquet. Skipping from flower to flower, one notices how diverse this combination of florals seems to be. "I realized after painting that I could and should anthropomorphize the flowers," says McColl. He goes on to describe how these flowers symbolize his loved ones – full of energy, color and life.
Much of McColl's work is driven by vibrant colors and repetitive mark making. He is a master at abstracting nature with organic flourishes and creating depth with hash marks – all while developing vivid escapes for the viewer. During our visit, we move from easel to wall art – comparing older work with new as he explains his relationship with the medium of watercolor. "I like to see how far I can push it," says McColl.
In this spirit of experimentation, he has created works that deal with space through use of color, then others only through mark making. The recent use of crayons has brought a whimsical resist to his new watercolors, like Bald Mountain, Dramatic Skies. Birch trees and other highlights stand out among the foliage and bring another dimension to the landscapes.
One of the best parts of a studio visit is being able to view an artist's work space. You get to see their favorite tools, mediums, creative experiments and little trinkets that make the space their own. McColl has numerous spaces he uses for working with watercolor, oil and displaying his paintings, each with their own chromatic vibe.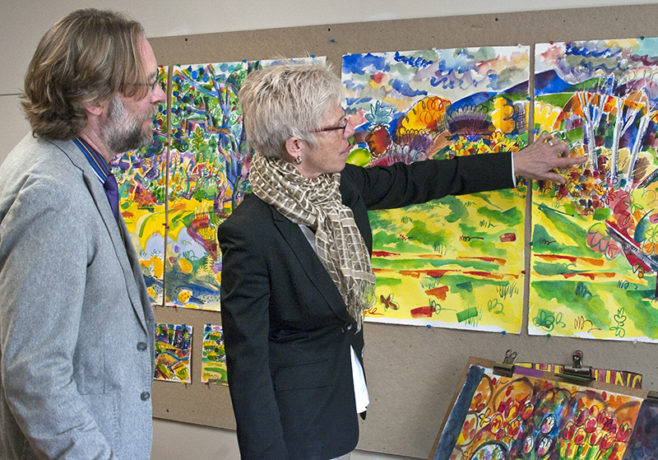 While we knew that Bruce prefers Winsor Newton watercolors for painting, we did not expect to learn that he is also testing a new product out for them! A close friend that works at WN has sent McColl an assortment of paint tubes – some the current recipe, and others a synthetic match. They are hoping to create a number of less expensive pigments and need experience water colorists to help them out. Of course, McColl is up to the challenge!
We hope you'll join us to see all the new colorful works by Bruce McColl at McGowan Fine Art for his upcoming show, The Color of Seasons. It will be on display June 6-July 7, 2017. Plan to celebrate with us at the opening reception on June 9, 5-7PM. This event is free and open to the public.
Sign up to receive McGowan Fine Art in your inbox! Updates on the newest art, shows, and events!