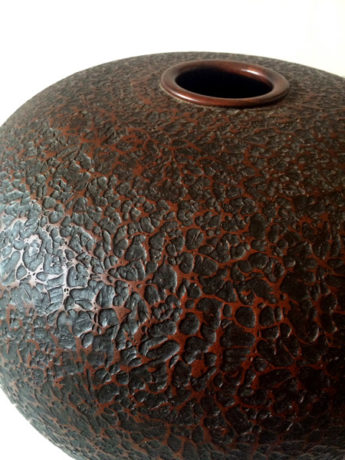 While in Maine a couple of weeks back, I visited the newly renovated Lewis Gallery in the Portland Public Library and saw the work of the New England Sculptors Association. Derrick Te Paske, one of the exhibiting artists, caught my eye. The show included two of his wood turned vessels, one from his Sex Pot series, and another called Iron Maiden II. The forms were elegant, surface decoration interesting and the craftsmanship impeccable. An immediate studio visit was in order!
Derrick Te Paske deserves a little explanation as an artist–his personal trajectory speaks to his work. He started as a photographer before being a founding partner of what eventually became Hurst & Hurst Gallery, a renowned Asian gallery in Cambridge. While learning to be an art dealer, he also developed a love for ancient objects, which would lead years later to learning to cast bronze so he could replicate some of the primitive objects he admired in museums. When he left the art business, he apprenticed himself to a filmmaker at Framingham State College in the Communication Arts Department. He was subsequently asked to teach there, went on to get his PhD in Communications and is currently Professor and Chair of that Department. About ten years ago he purchased a large wo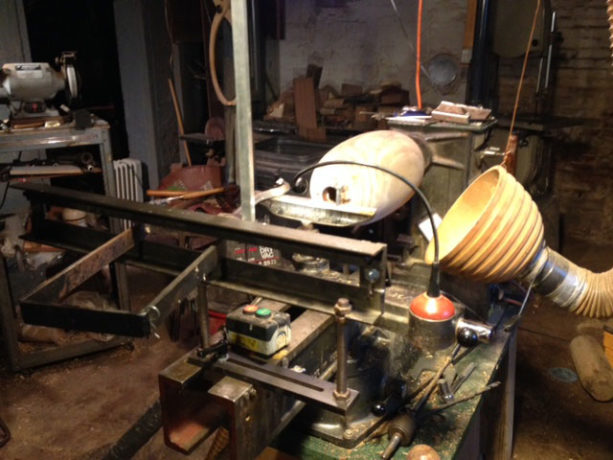 od turning lathe and followed his interest in sculpture. This works seems to bridge an aesthetic between primitive and new.
Because of Derrick's love of ancient objects he has avoided mechanization in the production of his pieces. His 1000 pound lathe is not ancient but is based on the simplest of principles. Large blanks of green wood are first rough-turned between spindles. As a piece is turned at a fairly rapid rotation, gouges are used to remove waste and determine the exterior form, in rather short order. The same principle can be used to hollow the piece (now held by one end) by slowly inserting a bit into the inside of a piece of wood to slowly hollow it out.
While the concept is easy, the execution provides more opportunity for error. When working on larger blocks of wood, th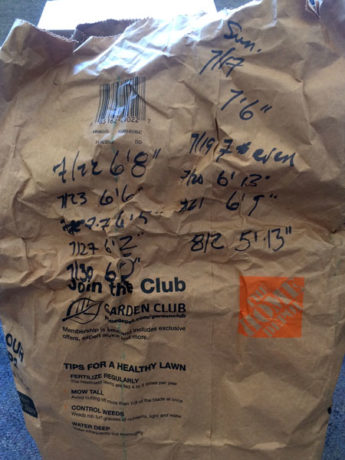 e rotation exponentially magnifies any action the handled bits or block of wood might make. Derrick has devised many hefty handles to hold the cutters he needs to insert into a form to hollow it out. Braces against his elbow are necessary to control its action, otherwise there is the potential for the vessel to literally grab the bit and attached shaft and hurl it at a speed that can pose danger to the operator. Derrick recounted the time
a big chunk broke from a large burl, which destabi
lized things immediately. The 1000 pound lathe started to skip across the workshop floor. That is a lot of heavy metal to not be in control of!
Another aspect not in control of the creator is wood's propensity to crack as it dries. Derrick has chosen to embrace this rather than fight the wood to create unnatural perfection. The very center of a tree, called the pith, is on display on many of his pots. The concentric rings are spider webbed with hairline cracks. In Aubergine I the pith dried at a different rate from the rest of the vessel causing it to be s
omewhat misshapen as if it were a piece of hand built pottery.
In an effort to slow the drying process down, Derrick places the vessels in paper yard waste bags. His curious mind notes the amount of water lost each day, recorded on the outside of the bag in sharpie. In the photo of the bag a vessel lost 2 lbs 9 oz in 16 days! When the weight finally stabilizes, the piece is dry enough for display or further treatment.
The final step is to add surface design, ornamentation or merely finish with Briwax — a fine wood wax. For the above vessel, Hollow Form Black/Red, he discovered that acrylic medium (thickened with marble dust) applied lavishly and sanded down created a network pattern. It feels both random and consistent as if part of the wood patterning itself. He has also played with a wood burning tool or nails/pins/tacks to produce dots across surfaces. Derrick's Sex Pot Series is a variation on the theme of dots. Sperm cover the surface of Sex Pot X: Labor of Love. The ornamentation enhances and defines his sensuous forms.
posted by Sarah M.Chaffee
Sign up to receive McGowan Fine Art in your inbox! Updates on the newest art, shows, and events!