March 28 – April 28, 2017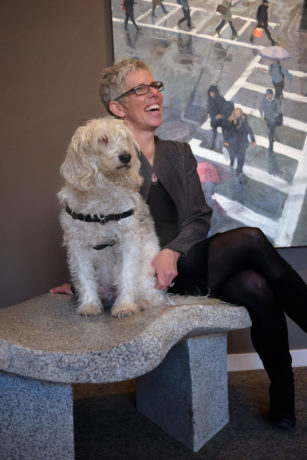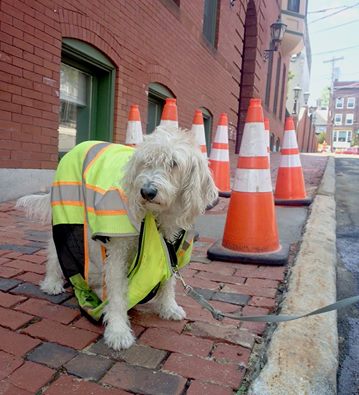 You may not know her by name, but if you spend any time on Main Street you will recognize her and her trusty four-legged sidekick, Henry. Sarah Chaffee has been a dedicated member of the Concord community for years – and passionately involved in the rehabilitation of Downtown Concord and the promotion of Concord as a Main Street Community. "I love this city. I love the walkability, how friendly and inclusive people are here. Not to mention all the amenities Concord offers for a small city," explains Chaffee.
Sarah moved to Concord straight out of college, and there has been no end in sight to how she brings forth the best in the community, "Something I learned from my mother is that you have to give back. I like that there are opportunities for me as a resident and a business owner to give back and make a difference," says Chaffee. Along with volunteering her time with many downtown companies, groups and panels, Sarah has been a valued board member of the Girl Scouts of the Green & White Mountains.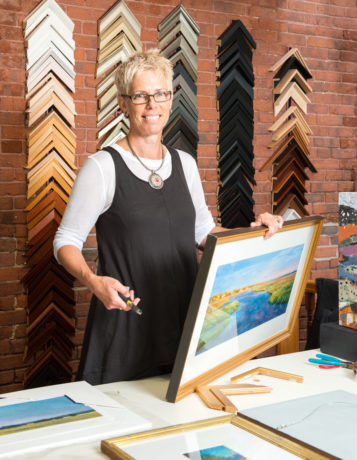 While Sarah and Henry are regulars around town, you can most often find them hard at work in Concord's longest running art gallery, McGowan Fine Art. Located at 10 Hills Ave, McGowan Fine Art is now celebrating two decades of Sarah's leadership with a celebratory show entitled 'Twenty Years of a Singular Vision.' The group show, featuring over 20 artists, is a culmination of Sarah's twenty years of observing art and refining her stable of artists. "It has been fun choosing the pieces," says Chaffee, "but the real work is making so many disparate pieces look cohesive." With something for everyone, the work ranges from abstract to landscape in a variety of mediums.
'Twenty Years of a Singular Vision' will run March 28-April 28th with a celebration on Friday, March 31st from 5-7pm. Join us for this exciting anniversary celebration of all things Sarah (and Henry) at McGowan Fine Art! This event is free and open to the public, and will be a wonderful evening of art & community.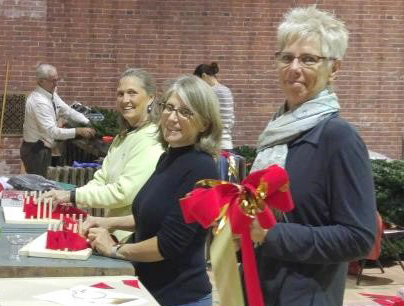 Michelle Motuzas, from Intown Concord, says, "Sarah Chaffee has made it an integral part of who she is and her life's work to enrich and expand both her own and others experience of Community. We are all lucky that community is Concord."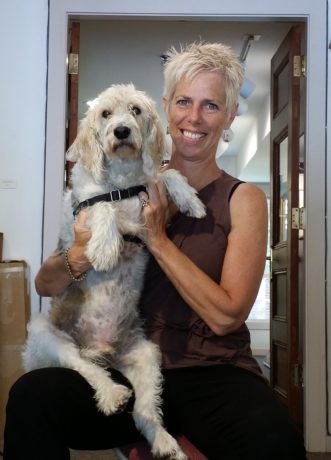 Participating artists are: Susan Abbott, Ted Arnold, John Bonner, Bruce Campbell, Cathy Chin, Sally Ladd Cole, Hannah Cole Dahar, Ellen Davis, Tom Driscoll, Catherine Graffam, Valerie Hird, Bruce McColl, Melissa Miller, Lucy Mink, Kat O'Connor, Derrick Te Paske, Bethany Rymes, Nancy Simonds, Sheri Hancock Tomek, Susan Stranc, Elaine Swenson, Catherine Tuttle, Adelaide Murphy Tyrol, Gary Haven Smith, Sandy Wadlington, Susan Wahlrab, Shiao-Ping Wang, Molly Wensberg, and Bert Yarborough. View artwork featured in the show on the exhibition page here.
Come be a part of this exciting anniversary celebration on April 28 from 5PM to 7PM at McGowan Fine Art, 10 Hills Avenue in Concord NH.
Please call Julie Hamel at 603-225-2515 for more information or visit our website at http://www.mcgowanfineart.com, or contact at gallery@mcgowanfineart.com. Hours: Tues-Fri 10-6pm, Sat 10-2pm and by appointment.