March 28 – April 28, 2017
Reception: March 31, 5-7PM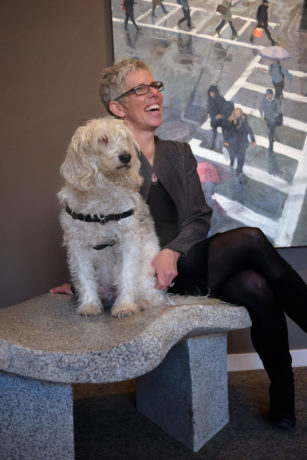 McGowan Fine Art is pleased to announce the opening of an exhibit celebrating 20 years of Sarah Chaffee's leadership at McGowan Fine Art. Gallery artists will be displaying new works to welcome the next decade of Sarah's direction. This show will be on display from March 28 through April 28, with a reception on March 31 from 5-7 PM. Please come help us celebrate this milestone. It is free and open to the public.
Participating artists are: Susan Abbott, Ted Arnold, John Bonner, Cathy Chin, Sally Ladd Cole, Hannah Cole Dahar, Ellen Davis, Tom Driscoll, Catherine Graffam, Valerie Hird, Bruce McColl, Melissa Miller, Lucy Mink, Kat O'Connor, Derrick Te Paske, Bethany Rymes, Nancy Simonds, Sheri Hancock Tomek, Susan Stranc, Elaine Swenson, Catherine Tuttle, Adelaide Murphy Tyrol, Gary Haven Smith, Sandy Wadlington, Susan Wahlrab, Shiao-Ping Wang, Molly Wensberg, and Bert Yarborough. View artwork featured in the show on the exhibition page here.
In March of 1997 Sarah Chaffee joined McGowan Fine Art as a 35 year old young woman. Her years spent working for artists, craftsmen and galleries from New Hampshire to New Mexico nearly prepared her for the job of operating a gallery. Under the tutelage of Mary McGowan she honed her skills as a writer, cataloguer and manager. Her art expertise came from years of looking at lots of art. "And I mean lots of art!" said Chaffee. "I am the gatekeeper and tastemaker for the gallery, requiring that I keep my audience engaged with exciting work. I am constantly sifting through portfolios, college museums and other galleries to find the best work for McGowan Fine Art."
This show is a culmination of Sarah's twenty years of looking at art and refining her stable of artists. Each participating artist has submitted a piece to- giving the show depth and breadth. "It has been fun choosing the pieces," says Chaffee, "but the real work is making so many disparate pieces look cohesive." The work will range from abstract to landscape and a variety of mediums.
Come be a part of this exciting anniversary celebration. The opening reception is March 31 from 5PM to 7PM at McGowan Fine Art, 10 Hills Avenue in Concord NH.
Please call Sarah Chaffee at 603-225-2515 for more information or visit our website at http://www.mcgowanfineart.com, or contact at art@mcgowanfineart.com. Hours: M-W 9-5, Th-F 9-7 and by appointment.