'Love, Lust & Desire IX' is up until Valentine's Day (Tuesday Feb 14th for those last minute shoppers out there!) What better low calorie, original treat for yourself or a loved one this holiday season!
While many know that LL&D is a juried community show that features over 75+ artists under $300, there is a lot of art $100 or under if your budget is a bit less or you want to give more than one gift!
Below you can quickly check out some price points, then look through the rest of the works on our full online gallery here.
| | | | |
| --- | --- | --- | --- |
| $25 or Under | $50 or Under | $75 or Under | $100 or Under |
| | | | |
| | | | |
| | | | |
| | | | |
| | | | |
| --- | --- | --- | --- |
| $150 or Under | $200 or Under | $250 or Under | $300 or Under |
| | | | |
| | | | |
If you have ever come into the gallery and fallen in love with an artist (or two!) we have you covered! Below you can get a sneak peek at some of the work we have by our stable artists – all under $300! This is a great, affordable opportunity to collect from one of your favorites! (Or pick up a special gift for the art lover in your life!)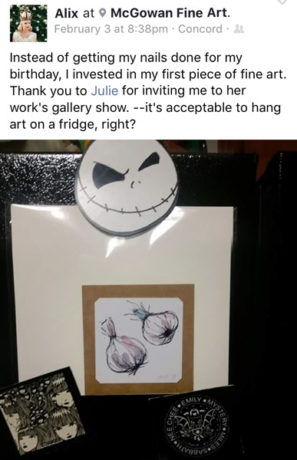 Thank you all that came to the LL&D opening on February 4th. We hope that everyone was able to walk away with something they loved, and had just as much fun as we all did! A lot of new faces walked through our door that evening and it was great to chat with some people starting their own fine art collection that night.
Again and again the subject of price vs. value is brought up when it comes to purchasing art…and it's all personal! Many art collectors put a higher value on being able to purchase a painting over going out to nice restaurants. Others prefer to add personality to their home with art instead of going on a trip.
A perfect example of purchasing a piece of art on a budget can be seen in the image to the right. Alix bought her first piece of original artwork at LL&D IX instead of getting her nails done, knowing she could frame it later. We salute you, fellow art lover! And congrats on your first piece of fine art work!
There is still time to take home your own piece – for you or a loved one! Our online gallery is up to date, noting what art has been sold and those that are still available. Feel free to stop in or contact us to get your holiday treats!
Not in the area? Feel free to contact us via email (gallery@mcgowanfineart.com) or phone (603-225-2515)! We are more than happy to ship your new piece of original artwork!
Sign up to receive McGowan Fine Art in your inbox! Updates on the newest art, shows, and events!