Love, Lust & Desire is our annual Valentine's juried show! It is a highly anticipated artistic free for all – first come first served, full flavored event. We are excited to share some 'behind the scenes' on the making of this low-calorie creative treat!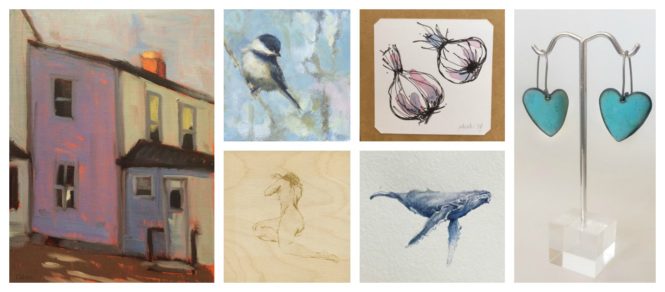 A Recipe for Love, Lust & Desire

Ingredients:
50-80 artists
500 8 1/2 x 11″ bags
Lots of open wall space
All the art you can carry
(A dash of patience never hurt anyone either, use to taste.)
Prep time: 2 months
Serving Size: Help yourself to seconds, it's your 'cheat day' right?
Believe it or not, the preparation for this 'February delight' starts in October. (Artists: if you ever miss out, mark your calendars now!) Calls go out in the Fall, but it is the cold weather that brings art to our doorsteps. McGowan receives images for review from all applicants by our mid-December deadline. We look for ripe, colorful, fun, fancy, whimsical, and quirky art – a feast for the eyes. If your palate is more refined, we have you covered there as well. Stunning landscapes and florals will leave your hearts and wallets full.
Once the batch of artists has been accepted, the art starts rolling in! Keep in mind, you may not have a prep space large enough… that is 1-10 pieces of artwork from 50-80 artists each year. If you are cooking with wine, now is the time to drink some…
Each artist is asked to supply us with the title, medium, size, and price of their work(s). Before anything gets dropped off we start uploading to our online gallery. (Artists: this is why it is so important to follow the 'call of entry' for shows like LL&D.) Balancing all these applications/communications and collecting all the data needed can be trying. The pot can boil over fairly quickly if people are not organized. You may want to hire a sous chef to keep your artists in line!
Our convenient online gallery allows patrons to preview the works and purchase ahead of time if there is something they are craving! (Artists: the sooner you send us quality images and pertinent information, the sooner we start promoting your work.) It takes over 2-3 weeks to do this, so we encourage people to keep checking back to see what's new!
Then the real fun begins…once the art is at the gallery, we start assembling our 'to go' dishes. Each piece includes its art and bag/mat board for protection/easy transport. We carefully handwrite the important information on each piece, alphabetize them, then box them to be ready for the show. This may sound quick and easy, but multiply it by around 450, and that is a lot of hors d'oeuvres!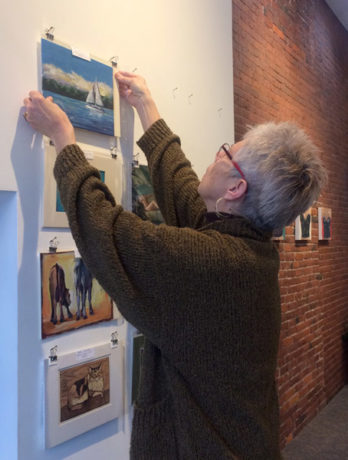 Much like al dente – you'll know it's done when it's slapped against a wall. Sarah is a precise chef regarding presentation – measuring out the proportions so that we can display the maximum amount of artwork in the gallery. Then each piece of art must clipped and secured to the wall. In order to present as much variety as possible, we hang at least one piece from each artist – then fill in the gaps with some of our favorites. Once finished, Sarah garnishes brick walls and other locations where bags are not easily hung/accessed/served.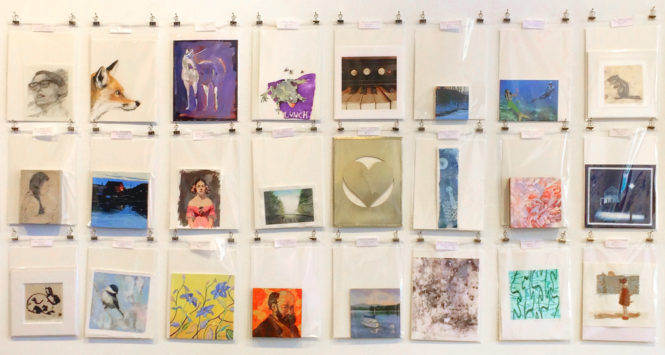 One of the most exciting parts about LL&D is its 'grab bag' fashion. Once the spread is out, everyone can enjoy the artistic buffet. Guests and collectors can remove the pieces they wish to purchase for themselves, a loved one, family member, or friend. (This show is ideal for gift giving with its great prices – all below $300!) Then bring your desired pieces to the register and off you go…no need to wait until the end of the show. The gallery 'waiters' will quickly present a new piece in the empty spot and the revolving show continues, rotisserie style.
We hope this quick peek behind the scenes helps both artists and collectors to be as excited as we are for this fabulous community show. Can't wait to see you for this year's exhibit, and to see what little treat(s) your heart desires!

Now… on to dessert!
Sign up to receive McGowan Fine Art in your inbox! Updates on the newest art, shows, and events!