by Julie Hamel
I may have been one of the luckiest people in New Hampshire to get hired at McGowan Fine Art last year – or at least I know that I felt that way. This past year has been the best of my life (so far). Getting to know these remarkable ladies, talented artists and fantastic patrons has been fulfilling in ways some may not think possible. McGowan is amazing and special in ways that are beyond words.
As anyone new to a job, it's obvious that they will learn a lot in the first year. Which made me think, should this interesting new knowledge be shared with the outside world? This blog post is for anyone that is curious about the gallery, fine art, or the relationship with the people who create such beautiful work for us to enjoy every day.


The top 5 things I have learned in my first year at McGowan
1. You become attached to artists
I will never forget my first day working at McGowan. I sat down at my desk and was captivated by the shape, shadow, and structure of the art hanging by my work space. It was so quiet, yet had an intense power of obsession and detail. "Altered Text: Peace Like a River" by Youdhi Maharjan sat next to me as my silent advisor, keeping my company as I got my bearings.
A few hours later, the beep at the door alerted me to the arrival of a man delivering a small box. 'Julie, I'd like you to meet Youdhi, he is one of our artists here," Sarah introduced. The first artist I met at McGowan just happened to be the creator of what had captivated me much of the morning – one of the reasons I knew I was in the right place. By the time my thirtieth birthday rolled around just four months later, I gifted myself my very first piece by Youdhi, and haven't looked back.
In just a year, I have gotten to see an impressive amount of art from many different artists. They bring in new works for Sarah to choose from and have in-depth conversations about their processes, hobbies, interests and struggles. I'm always grateful that Sarah lets me hover around during these interactions, and I try to collect as much artistic pollen as I can handle. Hearing these conversations sparks interest in specific artists' work – connecting me to some more deeply than others.
The artists start to become an extended family in the revolution towards a more artistic life. At some point you find yourself mumbling, "One day I will own a Bethany Cole Rymes," under your breath to no one in particular. Then you know… you have caught the bug.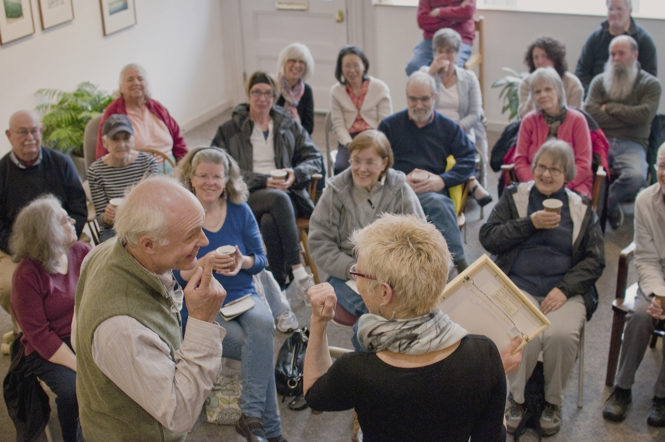 My advice: Find an artist's work that you enjoy and follow their creative journey. You may even learn some fascinating tidbits about your favorite artists that make them enjoyable as a person, or as an artist even more. (Case in point: I made this quiz featuring fun facts about artists here!)
How do you do this? Come to opening receptions. Come to artist talks and demos. Speak with us about things that are important to you and/or your art collection. The information we collectively know about these talented individuals is impressive and expansive. Knowing the background about your favorite artist or specific pieces will only strengthen your bond with the art, and could turn a new piece of artwork into a conversational piece in your home that will bring you joy for years to come.
2. You love a piece more the longer you live with it
As you know, art can carry a lot of emotions – which is one of the many reasons we love it so much. I have personally experienced how art can make me feel excited, bored, happy, calm, or even angry. In many ways, we create a 'relationship' with artwork. After working at McGowan for a year, I can safely say some pieces grow on you. Sometimes you fall instantly, head over canvas, and other times you put a new piece in the friend zone – and wait to formulate judgment.
We are lucky to have Sarah Chaffee's discerning and exceptional eye. She hand-picks everything that comes into the gallery, carefully thinking about what she, or her clients, respond to. I have seen myself (and others) realize that there has to be something to enjoy in each piece in inventory, even if we may not see it right away.
The gallery is constantly rotating our display of artwork. Not only does the main gallery shift with new shows every month, but the remainder of McGowan is transformed as well as we hang different pieces to keep things interesting. With all the movement and rearranging, some pieces bring out the best in others…while some just do not play well together. I have found that seeing the artwork in different places and paired with different pieces has allowed me to fall in love with works that didn't initially strike me. Any piece of art is able to speak to a person – if they chose to listen. When a person rereads a book or watches their favorite movie over again, there is a good chance you will find different tidbits every time you revisit it. The same is true with art. The right location or mood can change the piece for better.
My advice: As cliché as it sounds: the more you look, the more you see. So come often and stay longer. Perhaps even "try a painting on" by taking it home to see how it looks in your own space!
3. How hard these ladies work
This should not be understated. These chicks are tough. As much as we may like to chat about art with a glass of wine while wearing a fancy dress, that use of our time is basically nonexistent. I have broken down an average day at McGowan Fine Art for your viewing pleasure, see figure 1.
It may be a given that most of us take pride in our jobs, and we all may work 'hard' to get things done…but until you have witnessed Amanda in a pencil skirt and stilettos hauling portfolios sails on a windy Boston street, you have just seen the tip of the iceberg. These ladies are all about the art, the artists, and most of all – the clients.
An art gallery is a great place to pass time or get your art fix, but if you are looking for a piece to fall in love with or to transform a space you have come to the right location. The vast knowledge of artwork that these ladies have is almost intimidating. They can remember that John Bonner had a painting of a certain location in a specific color palette from 1998 that will fit perfectly in your dining room. Oh, you like that work by Melissa A. Miller but need it a different size? Let us see what we can do for you. BOOM. We have three.
Believe it or not, the majority of our time is spent problem solving. How can we make this client happy? How can we fill that awkward space or present this series of works? How will we fit all that art into one car? How are we going to archivally frame that wrestling belt? How can we protect all this art but also make it look good, if not better? How can we eat this entire cake from Bread & Chocolate in one sitting?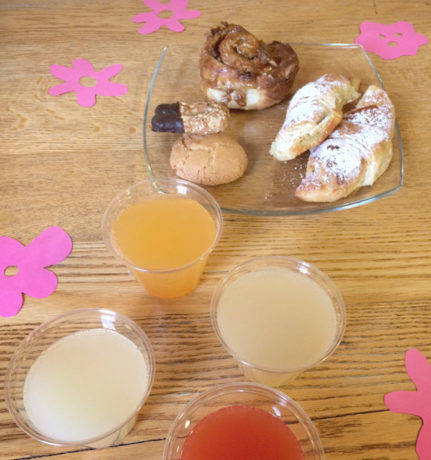 How are we able to fill up half the day with eating? Because we are constantly working out at our day job! You may not think about it right off the top of your head, but a lot of artwork is HEAVY. If you have yet to notice our extremely toned arms, you may have realized that sometimes we are hard to reach. Please bare with us. A lot of our jobs is trucking artwork from point A to point B – not sitting at our desks. However none of this is as impressive as the time that Sarah took on the challenge of choosing the perfect piece of artwork for a woman that had gone blind. Yes, we can do it all… backwards and in heels.
My advice: We care about you, we care about the artwork and the final presentation. There is no way we would want to steer you wrong. Also, bring snacks.
4. Appreciation for the value of art
I am sure everyone of you reading this has oogled at a price tag in a museum or gallery before. "Excuse-me, say-what-now," has been a common phrase of mine when it comes to the pricing of items – and not just art related ones. However, after a year of working at McGowan, I have learned a lot when it comes to the price of artwork, and my tone has changed to, "That's not that bad."
The more a person is exposed to something, the less threatening the previously uncertainty or outlandishness seems to be. (Which is why I keep trying tomatoes hoping someday I will enjoy them, but sadly today is not that day). Over time you understand not only the effort that went into a piece, but the time, education, materials, thought process and appreciation for those works. That all adds up to give a piece of art a serious value. It could take years to create a specific painting, or the artist may have done quite a bit of math to make sure the reflections in the water are the correct proportion to the landscape. Can you believe that? Math. One of the very reasons I am in the art world is to avoid numbers. Joking aside, when asking an artist how long it took to create a piece some respond, "Three hours and 35 years."
Some people may have uttered, "Even I could have done that," at one point or another. Well my good friend, that is obviously not the piece of art for you. Move along little pup and find something that takes your breath away. Bring a friend on your art-venture, they bring other insights and opinions. They may even notice things you do not. One of my favorite parts of this McGowan ride is getting to take my friends along with me. It was only last month that one of my closest friends saw a new piece by Bruce Campbell and responded to the price by saying, "Wow, that's not bad at all!" That's how you know the appreciation of work has been passed on to someone new, and it makes you feel really good inside.
My advice: Everyone values things differently. I would rather save my pennies and own original art than go out to eat once a week. Maybe you skip a weekend trip or hold on to that old car a little while longer. It all depends on your priorities at this point in time. At the end of the day you will spend money on the things you want, appreciate and value.
5. I need more art
Sign up to receive McGowan Fine Art in your inbox! Updates on the newest art, shows, and events!