There are a multitude of perspectives when looking at and talking about art. In an effort to begin and foster conversations, we asked a variety of people to write responces about pieces in our current show. We love the mix of artists, staff, and collectors voices, and hope that it causes someone to look a bit closer, or differently than they may have on their own. Enjoy!

The Trombone Admired, Ted Arnold
This painting is part of a series inspired by a performance of the All-Portland School Band, and several band concerts in different districts thereafter. The school band is always on the threatened species list. Yet each year a small legion picks up the saxophones of their ancestors, and with hope, fear and sweat, begins the ancient human struggle to let our spirit out of its cage.
-Ted Arnold, artist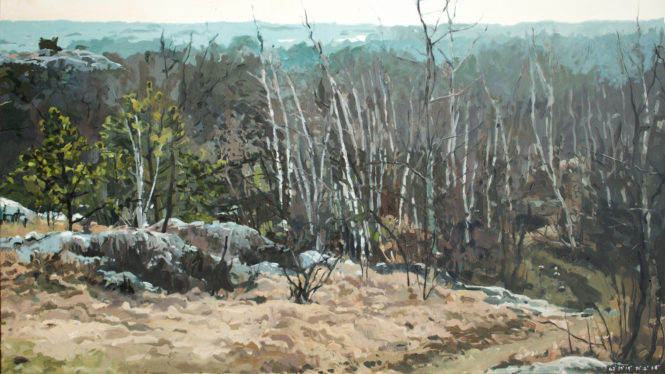 Early Spring Walk, John Bonner
Having had success with the Lichen tree, I thought I'd try a similar technique in oils, a kind of weaving of paint, not dissimilar to how Neil Welliver painted his landscapes in Maine, with results that echo his work (though I patiently excluded his rather bizarre regimen of restricting himself to five pigments. This is an actual scene, though when, after the foliage came in, I returned to record the co-ordinates from my iPhone, it had almost completely vanished, beneath a bewildering haze of leaves.
Part of the intention was to create a painting big enough that the closer you approach it, the more abstract it becomes. From a distance, a natural scene, up close, a tangled array of paint strokes, that Jackson Pollock might have liked.
-John Bonner, artist

Summer Meadow, Sally Ladd Cole
I have many childhood memories of walking through the woods with my mother, artist Sally Ladd Cole. For me, our walks were not only a respite from being inside the house, they were spent learning about simple navigation through the forest, identifying edible and non-edible wild plants, and tracking animals. Most important, though, was the development of a strong appreciation, respect, and gratitude for nature.
As an adult, I look at my mother's work and clearly see the echoes of these lessons. A marsh defined by blue sky reflected on calm water edged by lush vegetation. Brooks and streams channeling a path through dense forest. An ocean wave made translucent by sunlight pauses ominously, waiting for another's foamy retreat.
It is with ceaseless attention to detail that Sally Ladd Cole guides the viewer to the essence of her paintings. More than just renderings of forest, field, ocean, or marsh, these pieces allow us to feel her deep love, amazement, and appreciation for nature.
-Bethany Cole Rymes, artist

Frozen Pond, Rick Gerber
The hushed mood of this print is what initially drew me in. I'm not a winter girl, but this piece reminds me of a quiet winter day when you can see your breath and the sky feels close enough to touch. There's something so peaceful about being the only one there to enjoy the stillness of the moment. (Although there's a structure in the distance if you look closely, so it's just an illusion!)
The textures in this piece are what keep me coming back to look again and again. I love how the soft texture of the woodblock shows through – especially in the broad expanse of the sky – and how it contrasts with the sharper textures of the grass and trees below.
-Amanda Lacasse, staff

In between the Mud Flats, Tom Glover
The vivid colors of this painting caught my eye and made me take a second look. I'm a fan of mud flats and salt marshes and the animals that use both, but this painting's colors are not the normal yellows, greens and browns that I usually see. Instead of making me turn away, I felt that the colors show the rich life that exists there. The streaks of turquoise with the visible brush strokes create a lot of movement – I can feel the tide pulling the water out. The thin blue and mud lines in the center accentuate this. The rich colors of the mud banks reflect the amazing productivity of a marsh. The feel of this painting is all movement – drawing me in, the entrance flanked by the rick banks making me wonder just what is upstream of the scene. The deep blue sky and indistinct background add to this drawing-in feeling.
This drawing-in is something I feel is important in an artwork. It doesn't have to be a realistic scene—abstract art can do that too. I want to ponder the piece, look again and let my eye wander over it, see how it feels. There must be an emotional element to the work. Does is spark a memory? Make me feel a certain emotion? Make me see the world in a different way? These can be fleeting or lasting — it is the lasting ones I want to take home.
-Emily Preston, collector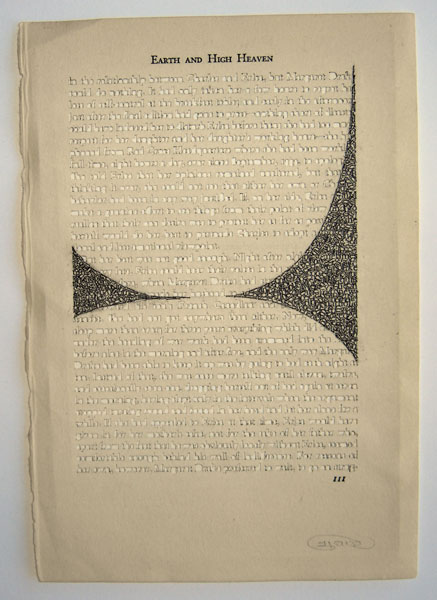 Earth and High Heaven, Youdhi Maharjan
I will forever be connected to the dedication and discipline of Youdhi's work. I find myself full of excited energy knowing he has to find the right book, page, and passage that speaks to him before he can start on his artistic journey. Knowing that once he finds what he is looking for, he will erase, rearrange, stack, darken, lighten or manipulate the written word to speak for him instead. The pure labor that goes into his work amazes me and leaves me searching. They spark my interest as well as my eye.
His pages may occupy quiet places when viewed across the room. However at close examination they unfold into layers and textures of a busy hollow world. My eyes linger. I feel there are hidden messages that I have yet to bring into fruition. Maybe the next time I pass it, perhaps the time after that. To me these created wor[l]ds are fascinating and captivating. They really do "cause enough poetic friction to start new life."
-Julie Hamel, staff
Sunflowers and Daisies for Fathers, Ogunguit, Bruce McColl
Painted in the summer of 2015, Sunflowers and Daisies for Fathers, Ogynquit was inspired by a communal garden north of Ogunquit village. I had discovered the garden the summer before on a day trip to the beach with my family. The garden is beautifully maintained and richly decorated by the community. Flowers and vegetables alike cluster in the green landscape, situated off the shores of Ogunquit's popular beach. What a setting! I determined we would return, this time for a week of beaching and my regular forays into the garden with easel and paints in-hand. For five days, I sauntered into the gardens, looking for that right mixture of color, texture and rhythm to embolden my heart and enliven my hand. One morning, July 28th, my father's birthday, I was struck by a lone tall sunflower, proudly standing high above the smaller annual and perennials around him. A day later, captured here in this painting, I noticed a cluster of similar sunflowers amidst a tapestry of yellow, orange and red annuals, modest homes in the background. Thinking of my dad and grandfather, both of whom had an abiding love of gardening, and painters such as Van Gogh for whom the sunflower was so powerfully drawn, I colored, drew and manicured this image in their memory. At times like these the poetry of the natural world brings our loved ones back to us in honorable ways.
-Bruce McColl, artist
Brown Hill Views, Melissa A. Miller
Here in these hills lies grace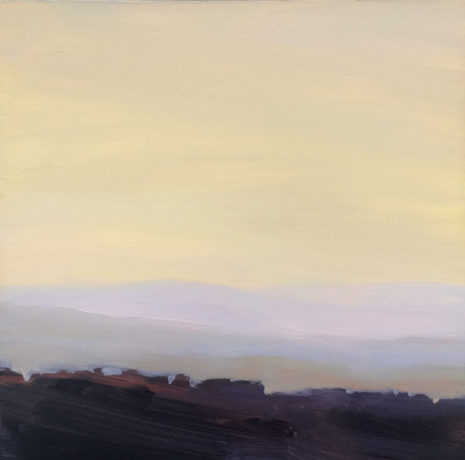 Here where the suns rolls slow
Yawning gold
Blushing new
Stretching wide
Across the range
Embracing me
In subtle
Ephemeral hue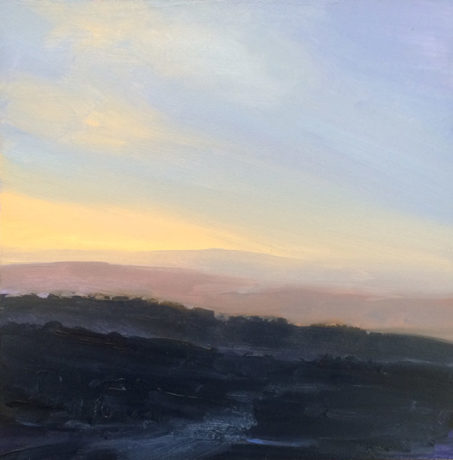 Tints of pastel prayer
And possibility
Here I breathe the color
Cup my hands
Dip my brush
And find the truth
–Sara Mathews, writer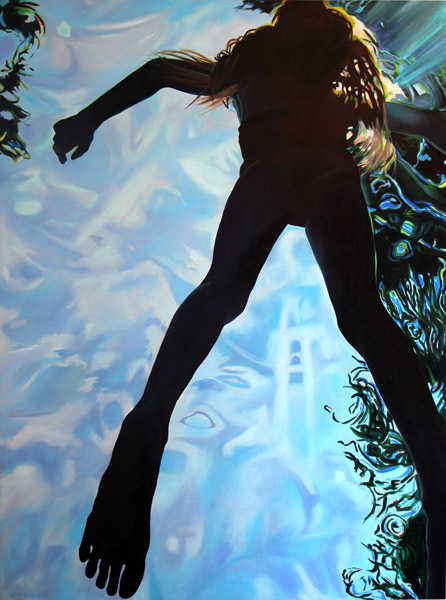 Luminous Will, Kat O'Connor
I remember jumping into the deep water and allowing myself to slowly rise to the surface. Keeping perfectly still. I could feel my long hair flowing and hear the muffled sounds from above. I was completely at peace and so fully present in the moment. This painting brings me back to my childhood summers at the lake.
I am attracted to the painting by the rich colors and the familiar figure. The patterns, which show the reflection of the surface in the water are fascinating. The contrast of the light, clear water and the dark shape of the girl is striking. The peacefulness that I feel when I stand in front of it, is what keeps me looking over and over.
-Nancy Simoneau, staff

Diagram, Bethany Cole Rymes
Color is the element of Bethany's paintings that first attracts you. As you continue to appreciate the work you become aware of the balance and harmony achieved within the composition that gives it a sense of excitement and yet an overall peace. Often working with soft shades of otherwise electric colors she lets them react against each other, cut through by sharp angles and definitive arcs, interspersed with rich deep darks defining the space.
Although Bethany until a few years ago worked as a realist, it was always the interaction of color and space expressing her sense of the world and how she was reacting to it that drove her to paint. As she allowed this expression to take form it became free from the restrictions of the solid material elements of her every day. The end result is these ever evolving beautiful snapshots of a scrap of time, forever caught on a piece of canvas to be enjoyed by those who see them.
-Sally Ladd Cole, artist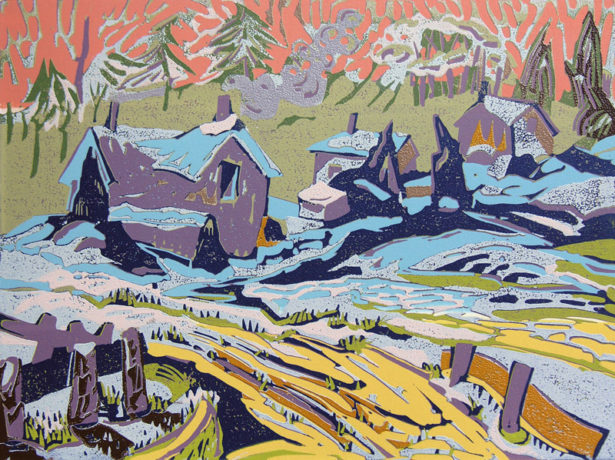 Spring Melt, Susan Stranc
The process of creating a reduction linoleum print is an inherently messy and confusing progression which works so well with this piece. "After each successive printing of a color, the surface of the block is reduced while at the same time the print surface is built up with multi-colored layers" says artist, Susan Stranc. The technique and title work in unity by slowly revealing the process and landscape. Everything seems to be happening at once, messy and jumbled as well as the growing and dying. An agricultural scene is depicted and is evocative of the way rural people live.
The artist's colors are exaggerated but they also work well together. They make you take a second look. The orange in the sky is so peculiar but it feels so right, don't you think? I have a huge respect for people who do reduction printing because you never know what will happen when you print the next layer. I wonder if the artist knew that the white color would break up when it was laid down. It's just lovely.
-Mary McGowan, founder & collector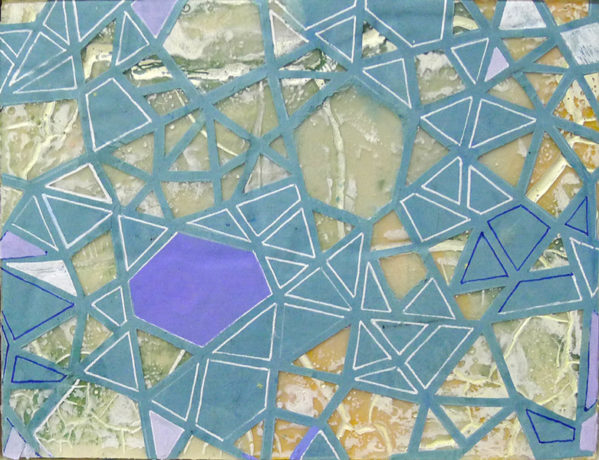 Thaw, Shiao-Ping Wang
I studied geology in college and my favorite part was always the variation in color and texture even within the same type of mineral or rock. At natural history museums I always end up hanging out in the mineral gallery staring at the opals. This piece reminds me a lot of some of my favorite samples. The acrylic in the background looks like an agate or sardonyx and the cut paper reminds me of hydrothermal veins. I also really like how it gets more complex the more you look at it…you keep noticing more and more textures and details.
-Kate Porter, art enthusiast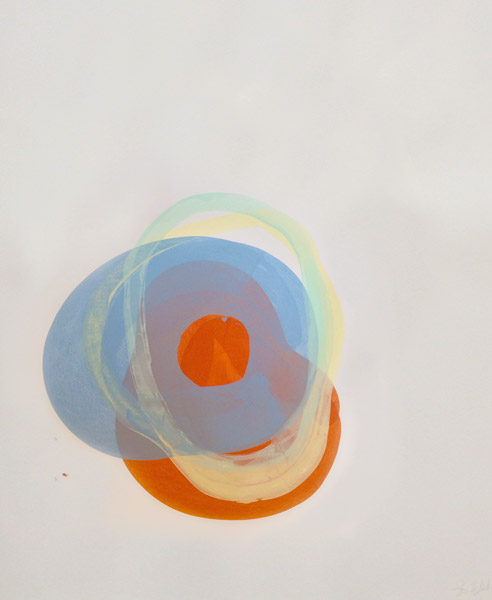 Space Within and Out, Liz Wilson
Liz's work appealed to me immediately because of her sherbert-y colors: pinks, yellows and lime greens! They give the impression of clouds of color that are both playful and restful. She uses the transparency of the acrylic paint to great effect. Each sweep of her tool reveals variations when layered over a previous color. I am especially mesmerized by Liz's use of white paint on white paper. It is so subtle and ethereal.
Her placement of the shape on the page is never random. They don't just sit statically in the middle. Each object relates to the edge of the paper giving it a feeling of gentle motion. The paper itself becomes part of the composition.
I am also taken by her technique. Through necessity she found materials and paint that were affordable- squeeze craft acrylics and Bondo spatulas. Her sophisticated color paintings and compositions belie the humble materials. I am always amazed at what a creative mind will come up with when given so few tools.
-Sarah Chaffee, owner & director
Sign up to receive McGowan Fine Art in your inbox! Updates on the newest art, shows, and events!